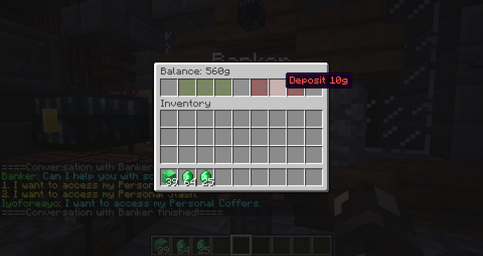 While normal Ender Chest functionality is disabled on Atlas (see Nation Coffers), similar storage is available to players via the Bankers present in every NPC Town. The items stored in a player's vault are accessible from any town's Banker. Players may visit a Banker to access their Personal Coffers and their Personal Stash.
Personal Coffers
Every player has a Personal Coffer where they may store up to 1,000g. Deposits and withdrawals can be made in increments of 1g, 10g, or 100g.
Personal Stash
In addition to gem storage, players have 9 slots of storage available from their Bank. Nearly all items can be stored in the Stash, however no items can be stacked there.